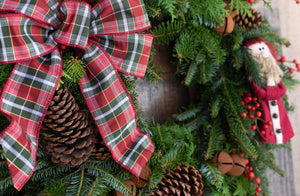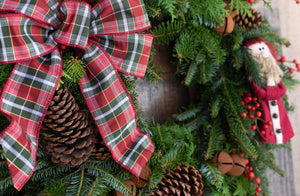 Here Cones Santa
The Here Cones Santa wreath is for the light hearted and classic person.  It combines fraser fir, arborvitae, accented with red berries, natural pine cones in different sizes, bells, as well as a plaid bow and primitive Santa ornament. Available in 24" & 28" sizes.

Materials: fraser fir, arborvitae, natural berries, natural pine cones, bells, Santa ornament and a plaid bow
Weight: 24'' is approximately 7 lbs; 28'' is approximately 9 lbs
Longevity: approximately 3 weeks indoors and at least 3 months outdoors in cooler climates when not in direct sun for majority of the day.  Some customers find it helpful to spray their fresh wreaths with water every few days to keep them fragrant.